Annual boiler servicing is a wise precaution, we can ensure that your current system is operating to peak performance, ensure against Carbon Monoxide leaks and prolong its lifespan.
Regular maintenance can also help prevent a system breakdown which can be expensive and never welcome. It doesn't necessarily mean a whole new system is required, there are many reasons for any central heating system to degrade and we will advise on the best way to get your heating back to its maximum potential quickly.
A power flush is simply a process that gives your central heating system a thorough internal clean and usually improves the central heating system's performance; which can lead to lower gas bills.
Over time some heating systems may experience poor circulation resulting in lukewarm radiators, poor hot water, increased noise and sludge build up. By 'powerflushing' your heating system, the sludge and built up residue will be removed via inline magnetic filtration, it will make your system work more efficiently.
Commercial Boiler Servicing & Maintenance Contracts in Essex and London
Servicing gas boilers within your business premises is a health and safety necessity. If the fuel in your boiler is not burning correctly it could lead to a carbon monoxide leak, resulting in health hazards for employees and customers, placing your business and its reputation in jeopardy.
At Academy Heating Ltd, our Gas Safe registered heating and ventilation engineers specialise in commercial gas services, ensuring all industrial boilers are in top condition, maintaining excellent levels of energy efficiency for your organisation's bottom line.
Our Gas Safe registered plumbing contractors are highly adept at working with many of the leading boiler brands and their respective parts, giving you complete peace of mind that your premises' central heating system is in the hands of professionals. We take great pride in our commercial boiler services – we're only satisfied with the efficiency of your boiler once you are.
We understand that whichever industry sector you work in, you need the confidence of knowing your heating systems are safe, cost-effective and efficient. A dangerous commercial heating system has the potential to cause a serious incident and place the future of a business firmly at risk. Our Gas Safe registered plumbing engineers are highly experienced in heating system installations for commercial use, supplying businesses with highly regarded equipment that should serve your premises for many years with regular servicing and maintenance.
If you are unsure as to the most suitable heating system for your commercial property, our experienced project managers will consult with you to better understand the size and location of your premises to allow us to specify the right installation and provide a swift, accurate quotation.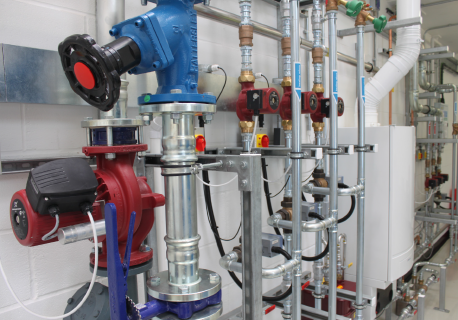 Looking for a new boiler? Give our friendly team a call today.
Only use a GAS SAFE REGISTERED ENGINEER to FIT, FIX and SERVICE your gas appliances. Click here for more info.