You can provide yourself with 50 – 70% of your hot domestic hot water requirements with a well sized solar panel system.
Not only does this reduce your carbon footprint, but it can cut heating costs too. The remaining percentage of your hot water requirement will be provided by a more traditional boiler.
We can combine a Worcester Greenskies solar panel with any of the condensing Greenstar regular and system boilers. Models are available in both oil and gas, which require a separate cylinder for the storage of hot water. The boiler system and solar system can then work together to provide you with both heating and hot water.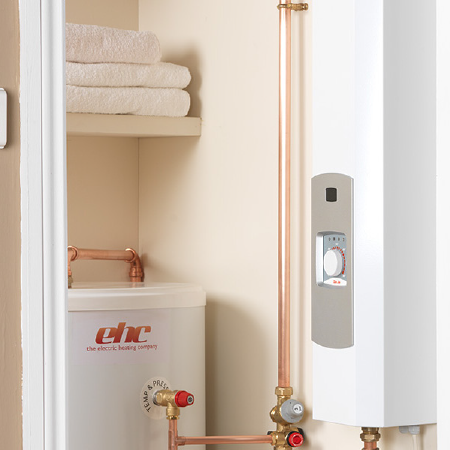 Electric Boiler Installations
Over 25 million homes in the UK have boilers that ignite gas or oil to heat water, an electric boiler passes the water through an electric element to get it hot.
Electric boilers are becoming more popular and can be installed in most small to medium sized homes to produce enough hot water for central heating and baths and showers. Electric combi boilers are definitely worth thinking about for homes without gas and people looking to lower their carbon footprint.
There are a few different types of electric boiler to choose from. Some of which may be more suited to your home and lifestyle than others. Similar to gas boilers, the electric combi boiler is emerging as the most popular electric boiler. We can help you decide what system is best for you.
If you're looking for a cost effective, low maintenance and aesthetically pleasing way to heat or cool a large space, air source heat pumps could be the perfect option for you.
They can effectively heat or cool up to 120 square metres, making them a perfect option for open plan areas such as commercial premises, classrooms, places of worship, loft and basement conversions and home extensions. The units also use "Cluster Ion Technology" to function as air purifiers and particulate filters that don't dry out the air in the same way that many air conditioning units do. This is ideal for allergy sufferers and contact lens wearers.
These units run entirely on electricity, making them a great, ecofriendly option or the perfect option for buildings that have no access or restricted access to mains gas.
The sun always produces latent heat on the ground, no matter what the weather. Underground temperature also remains at a constant 12 degrees and this energy can be harnessed by an effective glycol-based ground source heat pump system.
Ground source heat pumps like this use this latent heat to provide you with a constant supply of hot water and heating in your home.
Generally speaking, ground source heat pumps can generate four kilowatts of energy for every single kilowatt of electricity used. You can also benefit from grants, feed-in tariffs, and cash backs when you opt for ground source heat pumps.
We have extensive experience in air conditioning installation. All of our engineers are fully trained, qualified and certified, so you can rest assured that your system will be installed perfectly and safely.
It's recommended that you have your air conditioning system serviced at least once every two years. This will ensure that everything is in full working order, extending the life of your unit and allowing any issues to be tackled sooner rather than later, helping to save on costs.
Looking for experts in green energy? Give our friendly team a call today.
Only use a GAS SAFE REGISTERED ENGINEER to FIT, FIX and SERVICE your gas appliances. Click here for more info.